Published by Darren King on 24th Oct 2022
For over 40 years, Techna has worked in partnership with Joachim Uhing KG, inventors and world leading manufactures of rolling ring linear drives and systems.

Rolling Ring Linear Drives (Traverse Gear Box)
RG series rolling ring drives are friction drives which operate by converting the constant rotary movement of a plain shaft into a traversing movement. Distance travelled by the traverse per rotation (pitch) can be quickly and accurately adjusted, giving speed control with a high level of resolution. A simple "free-movement lever" mechanism allows for manual disengagement and repositioning of the unit on the shaft.
Automatic traversing movement is achieved with a constant shaft speed and single direction of shaft rotation, with automatic linear motion reversal at user selectable positions or controlled by pneumatic actuators. All functions (reversal, stroke width, pitch per revolution and free-movement) can be remotely controlled and heavy loads/high forces can be accommodated with additional load carriers.
• Eight models cover shaft diameters from 15mm to 80mm
• Up to 3600N side thrust
• Variable traversing speeds ranging from 0 m/s to a maximum of 4.2 m/s
• Variable traversing width and position
• Low operating costs and maintenance
• Supplied as either a Drive Unit or Complete Assembly (inc. Shaft and End Brackets etc.)
Rolling Ring Linear Drive Nuts
RS series rolling ring linear drive nuts convert the rotation of a plain shaft into a linear traversing movement. A fixed pitch provides constant speed with direction of travel according to direction of shaft rotation.
This effect is achieved by using rolling rings that are mounted on roller bearings and have a specially shaped running surface. These rings are pressed against the shaft so that they roll on the surface of the shaft at a specific angle.
• Seven models cover shaft diameters from 10mm to 60mm
• Up to 2000N side thrust
• Resistant to vibration
• Mechanism gives protection against overload and is Backlash-free
• Low maintenance
• Good sealing possibilities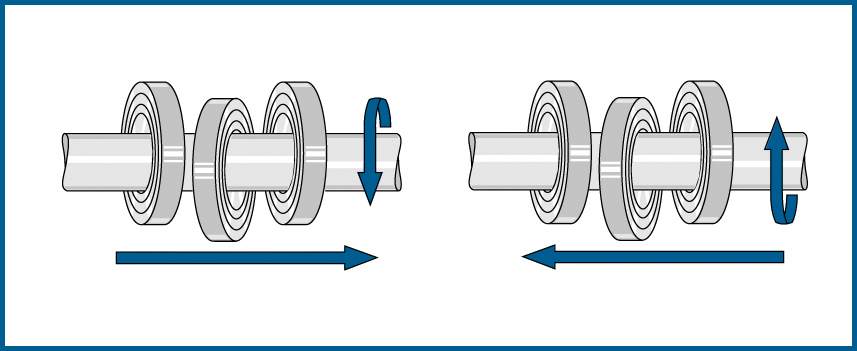 Automated Linear Motion
Uhing rolling ring drives have long been the industry standard for the control of winding wire or cable onto spools, but they also offer a real alternative to other linear drive systems for almost any project.
They have numerous advantages to other technologies like timing belts and threaded spindles in regards to smooth operation, environmental sealing and backlash/overload protection. Rolling ring drives should always be considered whenever permanent reciprocating movement is required.
Uhing have brought further innovations to the rolling ring drive concept by adding automation options for almost all control parameters of the drive. Traverse speed, end-point-reversal and the ability to remain stationary on a rotating shaft. These are all remotely controllable with no need to alter the shaft speed.
Looking for a turn-key system?
Uhing have designed a range of systems to take care of the automation for you and can be retro-fitted to most existing Uhing units:
• Uhing Motion Drive® - The latest innovation that controls both traverse speed and reversal with touch screen display, programmable memory functions and the ability to integrate into a machine controller.
• Uhing Measuring System - Reversal mechanism for spool winding controlled by laser sensors that identify the spool flanges and trigger the stroke reversal via pneumatic cylinder.
• Uhing Moveable Endstops - End point reversal controlled remotely by movement of limit stops by stepper motor.
• Uhing Modular Winder - Modular rewinding unit customisable to within a range of spool sizes