Published by Hamzah Tahir on 21st Jan 2021
TtecCP Series Push-in Terminals combine tool-less wiring ease and speed with corrosion free and gas resistant connections that can withstand harsh environments and extreme vibrations, all in an extremely compact and thin configuration from 3.5mm thickness.
TtecCP Series Push-in Terminal Advantages
Time Saving:
Withstand of Harsh Environments:
The specially designed spring configurations offer excellent resistance to loosening of wires in extreme environments that are prone to vibrations.
Our push-in terminal blocks have been subjected to severe mechanical vibration and shock tests as per the IEC 60068-2-6 & IEC 61373 guidelines. The TtecCP Series products have been subjected to vibrations of up to 300Hz with displacement of 5mm, at acceleration of 30m/sec², in all three axes for a duration of 2 hours on each axis. They have also been subjected to 3 mechanical shocks in the positive direction and 3 shocks in negative direction at an acceleration of 300m/sec² in all three axes with pulse duration of 18 milliseconds.
By using non-ferrous metals, the TtecCP Series terminal blocks are suitable for extremely harsh environmental conditions like marine applications and chemical plants.
Tool-less Wiring - provides the opportunity to make connections without tools, with reliable secureness of the wire connection independent of operator or human skill.
Our TtecCP Series terminals enable fast and simple wire connection of both solid and fine-stranded conductors with ferrules, by simply pushing them into the terminal block.
No special tools required. As well as direct push in options for the wire types previously mentioned, a standard screwdriver is all that is needed to open the clamps for connecting fine-stranded conductors without ferrules.

The terminal blocks feature a large conductor entry point for user friendly wire insertion.

A minimal insertion force is needed to connect smaller gauge wires.

Extremely large pull out values (ie. the force required before the wire can be unintentionally pulled out) is achieved as the spring acts against pull out forces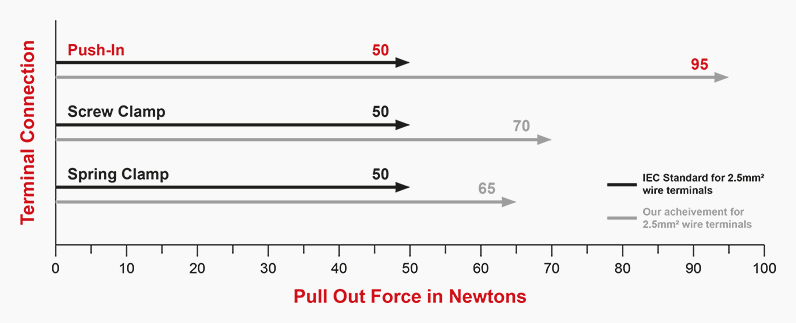 3.5mm Thin Terminal Design:
The specially designed clamping mechanism ensures that extremely thin product configurations can be created. With only 3.5mm thickness, a standard 1.5mm² wire with a crimped ferrule can easily be inserted in our TtecCP1.5 terminal block. The TtecCPST series sensor and actuator terminals are also 3.5mm thin.
Large Wire Entry Opening:
The specially designed housing facilitates ease of wire entry, even with crimped ferrules.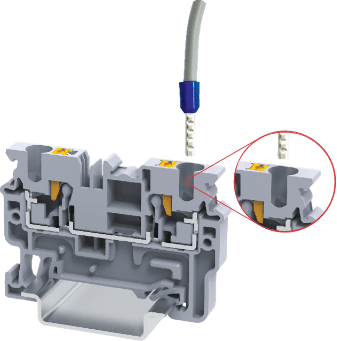 Simple Cross Connecting (using shorting links / jumpers):
Pluggable fast jumper (shorting link) system.

Available in different pole configurations.

2 independent rows for insertion of shorting links.

Bright orange insulation to indicate presence of jumpers.

Possibility of step-down connection across different wire size terminals.

The same TtecJX terminal shorting links are used across different terminal block series and connection technologies, including our CP push in range, our CX spring clamp range and our CY screw clamp terminals.
TtecCP Series Product Range for Different Applications
Feed Through and Earth Terminal Blocks
With a wide wire clamping range, feed through terminal blocks in the TtecCP Series product line are an ideal choice for quick and easy wire connections in control panels.

Ground terminal blocks use industry standard green and yellow colour and are used for terminating earth connections in control panels.

Earth terminals can be easily snapped onto the DIN-Rails and have the same profile as feed through terminals.

The earth terminal blocks can also be cross connected (using shorting links) with adjacent feed through terminal blocks for floating neutral applications in motor circuits.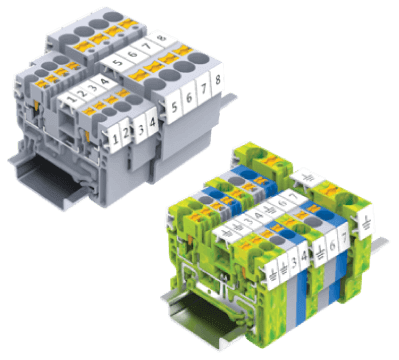 Click here for our range of Push-in Feed Through Terminals

Click here for our range of Push-in Earth Terminals
Multiple Wire & Multiple Level Terminal Blocks
Multiple wire connection terminals are suitable for connecting several wires together in a control panel.

Double level and triple Level push in terminal blocks, enable higher wiring densities.

Internally shorted and earth terminal versions in multi-tier configurations are also available.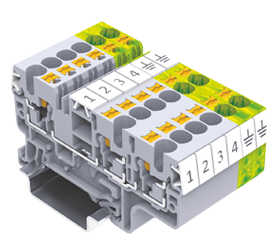 Click here for our range of Push-in Multiple Wire & Multiple Level Terminals
Sensor & Actuator Terminal Blocks
At just 3.5mm thickness and with the fast and easy push in technology, our sensor and actuator terminal models help in simplifying sensor cable connections in control panels

Colour coded wire removal buttons simplify circuit identifications for positive and negative buses.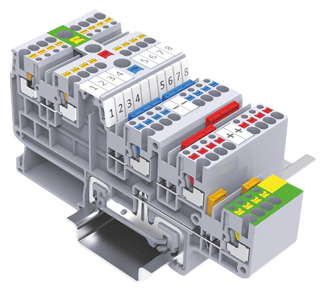 Click here for our range of Push-in Sensor & Actuator Terminals
8 Level Marshalling Terminal Blocks
Easy installation of up to 32 wires, with push in type connections.

Space saving and compact design - Just 9mm thick and 120mm wide.

Separator plate to mark each level with the help of marking tags.

Integrated End Plate.

Quick identification of the termination points with colour coded wire removal buttons.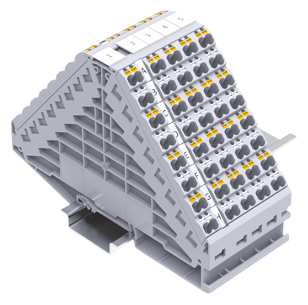 Click here for our range of Push-in 8 Level Marshalling Terminals
Knife Disconnect Terminal Blocks
Specialised double level knife disconnect terminals help in increasing the wiring density and also provide easy access to disconnection knife contacts on top.

The disconnecting knife contacts are colour coded to facilitate clear disconnection of individual levels.

Standard ø 2.3mm test probes can be inserted at each level to carry out the necessary test protocols after disconnection.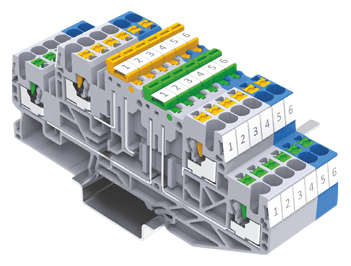 Click here for our range of Push-in Knife Disconnect Terminals